Interview by Cat Rambo.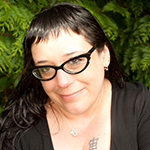 Photo by Folly Blaine
Seattle writer and frequent SFWA blog contributor Caren Gussoff describes her newest novel, The Birthday Problem, as her "zombie book." If she's telling the truth, then The Birthday Problem turns all zombie novels, literally, on their head; in the book, a pandemic-level mental illness caused by malfunctioning nanobots is the root of the transformation. Originally conceived as an homage to Greg Bear's Blood Music, Gussoff's novel, out from Massachusetts-based publisher Pink Narcissus Press, strives to answer many of the same questions Bear's masterpiece does while drawing deeply from her literary background and the Pacific Northwest setting.
What is the most interesting way you have explained the mathematical concept of the birthday problem?
I've mostly just had fun having people guess! I've yet to have someone not already familiar with the birthday problem even come close.
The birthday problem is a mathematical concept that tests both what we know about probability and the ways we, as individuals, subconsciously think about our own special uniqueness. The problem itself asks a simple question: how many people do you need in one room to have a greater than 50% chance that two of them will have the same birthday?
The answer is just 23. You need 23 people in one room, randomly selected, to have a greater than even chance two will share the same birthday. With 23 people, there are 253 combinations of people/birthdays, which brings the probability of two people/one birthday above 50%.
Most folks are shocked it's so few. Firstly, humans tend to be terrible at predicting how probable something is in reality…there are many theories why, but none that fully answer why our subjectivity is so off. Secondly, birthdays have significance in our culture, and we personalize the day on which we were born so much, to the point where it feels unlikely, somehow — though most people can't fully explain why — that the math shakes out like that.
That entire notion, of how we consider probability, and therefore luck, coincidence, and even fate, is a driving theme in the novel…in fact, important enough to give the book its title (The Birthday Problem).
–What are you doing to promote the book?
Mirrored from SFWA | Comment at SFWA